Aussie Pop Top Cover
$38695

or make 4 interest-free payments from $96.74 AUD fortnightly with More info
(PLEASE SELECT FROM THE AVAILABLE SIZES SHOWING BELOW TO UPDATE PRICE SHOWN)
---
IMPORTANT NOTE WHEN BUYING A COVER! HAVE YOU MEASURED?

When buying a cover for a Caravan, Pop Top, Camper Trailer or Motorhome, knowing the EXTERNAL metric length measurement is essential in ensuring you choose the correct size. Some Owner's manuals refer to INTERNAL measurements, which may lead you to choose a size that is too small.

Length x Width x Height measurements can be found below for all available sizes in this brand. If in doubt, please contact us before making your purchase.
PLEASE SELECT YOUR SIZE FROM THE LIST BELOW
(This will update the price shown above)
Estimated Arrival: Between May 13 and May 22.
(5 - 14 days excluding public holidays and weekends)
Customer Reviews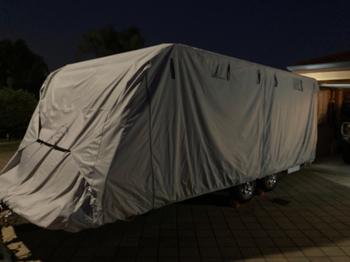 30 December 2020
I recommend this product
My experience
I spoke directly with the supplier, most unusual. Got all the information I requested and went ahead and preordered my cover, it arrived on time the quality and fit were exceptional. Thanks for the excellent service in tough times Neil
Neil H.

Canning Vale, Western Australia
29 November 2020
I recommend this product
Great communication
We ordered a cover for a Xmas gift to our son, while there was an initial supply problem the Caravan Cover Shop were fantastic with their information regarding updates on delivery the cover duly arrived last week.
Anonymous

Cranbourne South, Victoria
09 August 2020
I recommend this product
Caravan cover
Excellent service from Kirk Cover fits very well The only problem we had was delivery, the transport company some how sent it in the wrong direction....anyway Kirk in his professional manner sorted it out and our goods finally arrived
Mick H.

Burringbar, New South Wales
09 August 2020
Caravan Cover Shop
Thanks very much for your feedback, Mick. I am sorry for the delay caused by the Transport issue, however I am very happy that all was resolved and the cover is now fitted and fits well. Kirk.
22 June 2020
I recommend this product
caravan cover
Pretty darn good. I like the material. I watched the video, used the method, it went on smoothly. Because of the awning, it is a little tight width-wise. Not a big problem. Thanks all at Caravan Covers, Brian Buzzard
Anonymous

Duncraig, Western Australia
31 May 2020
I recommend this product
Aussie caravan cover
Excellent, Kirk was most helpful in choosing the correct cover. The cover fitted very well and was easy to put on. My main concern is how long the cover will last. Our last cover (Prestige) disintegrated after less than 4 years. Time will tell how long this cover lasts.
Graeme C.

WATERWAYS, Victoria
---
We Also Recommend